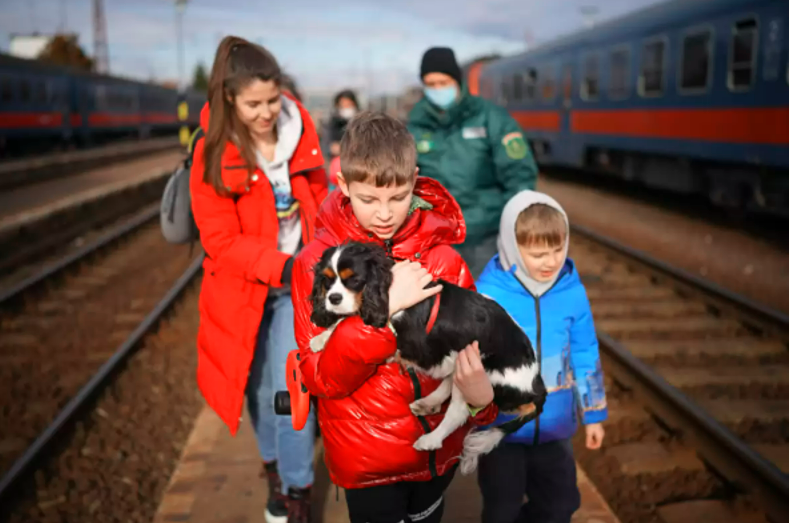 Ukraine Pets & Strays are also Feeling the Pressure of War
Almost a million Ukrainians are fleeing their war-torn country.  Some have left pets behind which is unthinkable while others are refusing to leave without their pets by their side.
There's Good News for Ukrainians who want to leave the country with their beloved pets!
Romania, Czech Republic, Lithuania, Slovenia, Slovakia, Hungary and Poland have all relaxed their restrictions on pets, meaning refugees from Ukraine can take animals with them. In Poland there is even funding available for accommodation and vaccination of pets, making things even easier for families travelling with animals.
Our thoughts and prayers are with the Ukranian people and their beloved Pets.
A Mother, Daughter and Pomeranian after crossing into Romania
Pets remaining with pet parents in the Ukraine require medications and food. Supply chain issues are insurmountable due to the inability and danger of transporting basic necessities like food or medication.
There is another major crisis occurring in the Ukraine. There are tens-of-thousands of Stray dogs living in the countryside and cities who have survived on garbage and the generosity of compassionate people and rescues. The strays have to deal with the danger of the bombs, blasts and shelling with no place to hide.  With so many residents conserving food or fleeing the country to fend for their own lives strays truly suffer.
Two of the Many Stray Dogs in Ukraine Pre-War
Stray dogs provide Emotional Support for those on the battlefield and this has been evident during many battles in many countries
A group of Ukrainian soldiers discovered  a new recruit in the form of a sweet stray dog above. "We took him into our post, and he stayed with us."
Rambo above is an adorable pup who is absolutely dwarfed by the soldiers in their combat gear. But still, he commands a presence (as puppies do), which might be why the troop refers to him as their "protector." According to the soldiers, Rambo acts as a watchdog who can hear really well, act as a sentry and warn them.
A Family faces Uncertain Times 
Hunkered in underground for safety. The bombing and shooting must be terrifying for pets.
 A Kitty taking shelter with a mom and child
Mans Best Friend Keeping Alert 
The Charitable Organizations below are doing great work but need help. 
UAnimals – This organization helps animal shelters that are struggling to collect food and supplies in Ukraine. Give a Paw, Chance for Life, Pif, and Sirius are just a few shelters they're assisting.
 Happy Paw – Happy Paw is supporting shelter animals and strays. They're currently gathering information to find out the shelters' biggest needs, and they'll support them in any way possible.
Shelter Ugolyok – This is an animal rescue and sanctuary that's providing food for animals in need.
Sirius – Sirius is a shelter in Kyiv that currently needs all the support they can get.
International Animal Protection League – This animal refuge is located just outside of Kyiv, and they are still caring for hundreds of homeless animals during this time.
Sava's Safe Haven is a family-run animal shelter based in Galti, Romania - near the eastern-most border with Moldova and Ukraine - is among the organizations providing help to Ukrainian refugees with pets. For those men aged 18-30 who are conscripted into the military and cannot leave the Ukraine Sava, has set up foster homes in Romania for their pets
PETA Germany, supported by the Global Compassion Fund, is on the ground, helping animals and their families escape to safety. They are requesting donations for the Global Compassion Fund to provide animals with veterinary care and food
Shelter Friend Ukraine is caring for over 600 dogs
International fund for Animal Welfare or IFAW is partnering with shelters and Ukranians to care for animals still in the country and also assisting those who want to escape with their pets
Casa lui Patrocie  is a Romanian non-profit that helps find shelter, veterinary assistance and homes for animals reaching the country's border
 Ukrainian animal shelter owner says he'd rather die than abandon his pets
Andrea Cisternino, an Italian Fashion Photographer who emigrated to the Ukraine runs an amazing animal shelter in the capital city of Kyiv. 
Home to over 400 animals, including cats, dogs, and sheep, there is currently no way to safely evacuate them. Knowing this, Andrea has vowed to stay behind with them. He has limited time to speak because he is so busy  but does post on Facebook
Updated March 10, 2022- Countries now allowing Ukrainian pets without Veterinary Health Documentation
VERIFIED

 

Entering BELGIUM - In view of the emergency situation, the FASFC will temporarily also allow dogs, cats and ferrets from Ukraine (non-commercial traffic) to enter the territory if no permit has been requested. These animals must be placed in home isolation and reported to the FASFC:

 

import@favv-afsca.be. These animals can be regularized according to the standard regularization procedure including isolation of the animal, identification of the animal, vaccination and titer determination of the antibodies against rabies. 

VERIFIED

 

Entering DENMARK - As a result of the Russian invasion of Ukraine, the EU and Denmark use a special derogation in Regulation 2013/576, which means that people traveling with their pets from Ukraine can be imported into the EU/Denmark even if the animal does not meet all the requirements. However, as rabies is present in Ukraine it is important that there is special attention to dogs, cats and ferrets, which can be carriers of the rabies virus. There is a description of the requirements that pets must live up to in order to comply with the requirements for importation under the special exemption options. 

VERIFIED

 

Entering IRELAND - Special arrangements have been put in place to facilitate the movement of non-commercial pets with their owners from Ukraine and for EU citizens currently in Russia wishing to return to the EU with their pets in emergency circumstances. These pets will be allowed to travel with their owners even if the pet is non-compliant for entry into the EU or missing documentation. Please bring as much documentation about your pets as you can, e.g. vaccination or vet records. Staff will then issue you with instructions on arrival. 

VERIFIED

 

Entering NETHERLANDS

 

-

 

Refugees and Dutch nationals who urgently travel from Ukraine to the Netherlands with their pets are faced with rules for the import of their animal. That's because Ukraine is a high-risk country for rabies. In addition, it is not an EU member state. It has been agreed at the EU level that people who have fled Ukraine with their pets will be treated flexibly. In the event of an acute departure from Ukraine, it is not always possible to comply with the applicable rules and conditions. An exception is possible on the basis of Article 32 of Regulation (EU) No 576/2013. Travelers are asked to report to the NVWA in advance, insofar as this is possible. This can help ensure the smoothest possible passage for both travelers and their animals. 

VERIFIED

 

Entering INDIA - Indian authorities have issued a one-time relaxation measure for Indian nationals fleeing Ukraine with their pets. The Indian government will allow companion dogs and cats to enter the country with their guardians. If evacuees have a vaccination certificate, the pet will be examined along with the certificate and cleared. If the pet does not have a vaccination certificate, the animal will be kept in quarantine for 15 or 30 days, at the end of which the animal will be vaccinated. After the animal arrives home, the guardian will need to take their pet to a vet and submit a certificate to the Animal Quarantine and Certification Services (AQCS). 


VERIFIED

 

Entering GERMANY - For the entry to Germany, it is currently valid that pet owners can enter with their pets from Ukraine until further notice without having to apply for a permit in advance in accordance with Regulation (EU) 576/2013. Those entering the country are requested to contact the local veterinary authority to determine the health status of the animal with regard to rabies and to initiate measures if necessary (isolation, antibody titer determination, rabies vaccination, microchipping, issuance of pet passport).

VERIFIED

 

Entering ITALY - Ukrainian citizens are now permitted to enter European countries with their dogs and cats, even without the proper documentation. This will be sorted once families and their pets have crossed the border.

VERIFIED

 

Entering FINLAND - Under these exceptional circumstances, pets traveling with owners from Ukraine or under force majeure circumstances from Russia are authorized to enter Finland without prior application or permit. Owners, or their representative, are asked to present the pet and any paperwork to Finnish Customs at the border upon entry. Finnish Customs will provide further instructions.

VERIFIED

 

Entering ROMANIA - Ukrainian pets can also come to Romania WITHOUT microchip, vaccine or passport. AFTER entering Romania, the owner just fills in a document. All pets are allowed! 



VERIFIED

 

Entering POLAND - Polish officials are now facilitating Ukrainian border crossing for families fleeing with their animals. The whole animal health dossier is now NOT mandatory. Animals will be vaccinated AFTER CROSSING Polish side of the border. 

VERIFIED

 

Entering HUNGARY - Hungary has opened borders for unvaccinated and undocumented pets. Hungarian authorities will also provide rabies vaccination and microchipping to dogs, cats and ferrets entering with refugees.

VERIFIED

 

Entering SLOVAKIA

 

-

 

Officially accepting animals, even those that are not vaccinated/do not have a vaccination certificate. Document to fill in via this link:

VERIFIED

 

Entering LITHUANIA - Ukrainian citizens whose pets are properly marked, vaccinated, have a valid animal passport, and meet all the requirements for bringing pets into the EU can cross the state border in the usual way. However, animals coming from Ukraine that are not microchipped or have not been vaccinated against rabies will be marked and vaccinated on the spot, and any isolation requirements will be facilitated. 

VERIFIED

 

Entering LATVIA - Accepting pets of Ukranian citizens who are not microchipped, not vaccinated against rabies, etc. It will be possible for the owner of the animal to carry out all formalities and procedures after entering Latvia. 

VERIFIED

 

Entering ESTONIA - Allowing in animals without documentation, rabies vaccine and/or microchip. Email the arrival notification form (link below) to

 

pta@pta.agri.ee

 

and

 

darja.trohhatsova@pta.agri.ee

 

and

 

elika.brosman@emta.ee 

VERIFIED

 

Entering CZECH REPUBLIC - Those animals entering without a valid rabies vaccine/rabies titre test, will be placed under 10-day quarantine (meaning constant supervision by the owner). Within three days of entry, pet needs to be checked by a veterinarian (and microchipped if needed). Between 5–10 days of entry, rabies vaccine needs to be given if not up to date.