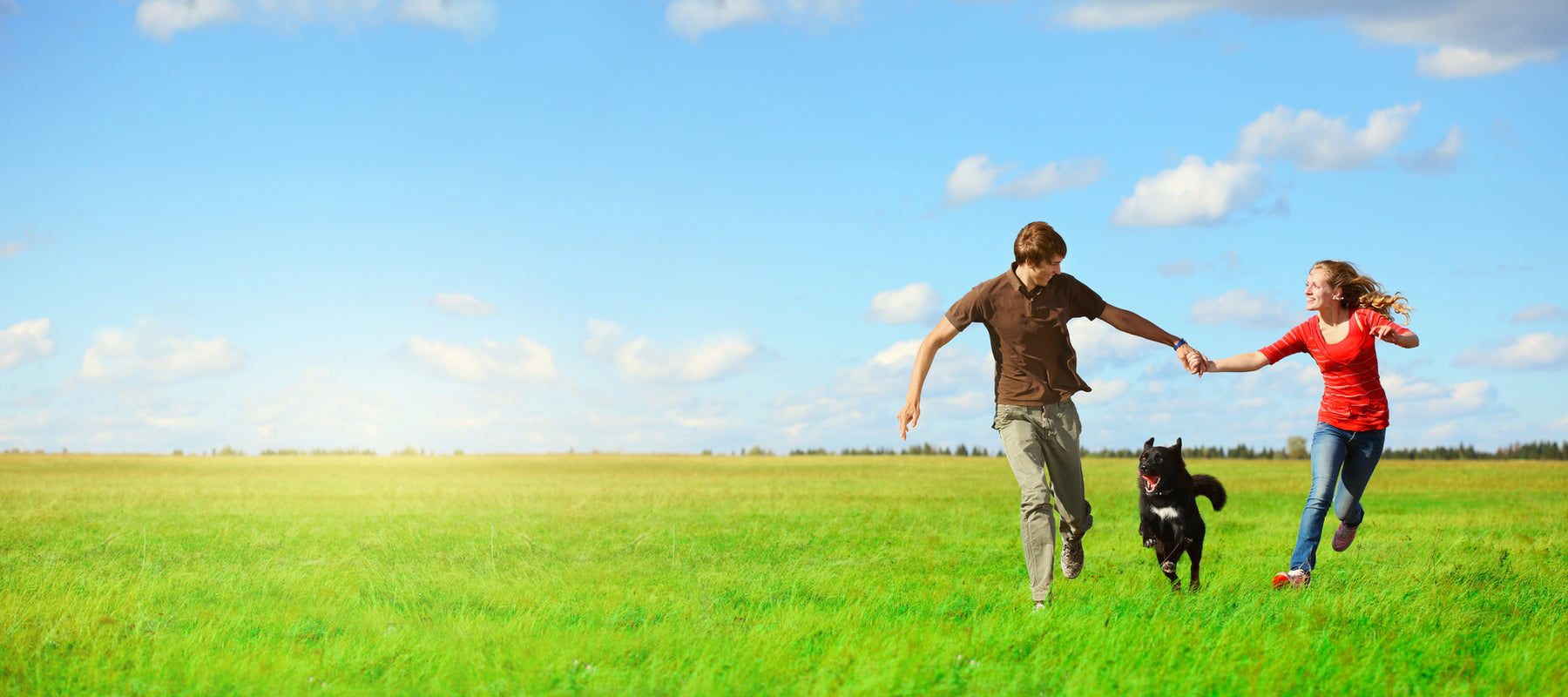 How pets make us Feel Better and Live Longer
Can Pets reduce the need for Prilosec or Prozac?
It's a given that pets are amazing and amusing. They provide unconditional love, companionship, make us chuckle and, they are living being that we can take care of.  But are there really health benefits in owning a pet?
Research and Studies confirm that pets are an important part of our development, can help improve our health and prolong our lives.
Dogs can strengthen our Heart and prolong our lives!
In 2 Studies Dog companionship was associated with a
24% reduced risk of death
from any cause among the general public. There was also a
33% lower risk of death
among heart attack survivors who live alone, according to the reports published in the journal circulation: Cardiovascular Quality and Outcomes.
Robotic dogs offer health benefits!
It seems our brains are hardwired to embrace not only pets but mechanical objects that simulate a pet. Aibo, a robotic dog made by Sony corporation was researched in homes of seniors that were isolated. Initial research indicated that seniors had a genuine connection when interacting with the robotic dog which could improve blood pressure, reduce stress and improve overall health. In Japan seniors have embraced robotic dogs to combat loneliness.
Pets prevent allergies!
The more cats or dogs you live with as an infant, the lower your chance of developing asthma, hay fever or eczema. Some studies have found that having a pet early in life protects from allergies later in childhood.
Pets in the Classroom help kids learn & more.
 A Purdue university study discovered that animals in the classroom help teachers teach "teachable" moments where kids had enhanced learning. Students wrote more effectively and with more imagination with pets in the classroom. Pets also help keep kids calm, teach them about the life cycle and how to take care of something living.
Aquariums are Natures answer to Stress
Aquariums provide health benefits to people in various ways. Having a tank in a dental office gives patients something to watch and relax with while they wait in the lobby. This can lead to significant reduction in their stress and anxiety levels. 
Studies dating as far back as the 80's have shown that aquariums, both personal or office ones, are good ways to combat daily stress, insomnia, and high blood pressure.
Dogs and your Health
Studies show that dog owners may live longer than non-dog owners.

Dog owners are 31% less likely to die from a heart attack or stroke than non-dog owners.

People with prior heart events who had a dog living at home had a 65% reduced risk of death.

Dog owners who walk their dogs regularly face one-third the risk of diabetes of those who don't own a dog.

Dog parents are more likely to reach their fitness goals than those without canine companions.

Pet companionship may provide important social support and is a powerful predictor of behavior changes that can lead to weight loss.

Dogs can help with chronic conditions and prevent chronic disease.

Pet ownership is an important form of social support that can benefit patients with heart disease or stroke.
Less stress with dogs:
When we see, touch, hear or talk to our companion animals, we feel goodwill, joy, nurturing and happiness. At the same time, stress hormones are suppressed.

Studies show that the mere act of petting a dog decreases blood pressure.

Having a pet can help increase fitness levels, relieve stress and boost overall happiness and well-being.

Dogs help ease people out of isolation or shyness. Studies find that owning and walking a dog increases social interaction.
Dogs, pet parents and the family:
Dog-owning families often promote physical activity within the household.

Dog parents are more likely to fit in the recommended level of physical activity than those who don't have a dog

 Dog parents are 34% more likely to fit in 150 minutes of walking per week recommended by the AHA than non-dog owners.

Dogs are always there to comfort you. They put a smile on your face every day.
 Courtesy of Heart.org
Harmony Institute
The Harmony institute is located 30 minutes away from Orlando Florida. It is a housing community that welcomes pets and is conducting a long-term study on how the relationship with pets and  nature can improve the health and wellbeing of its residents.  Watch Video Below