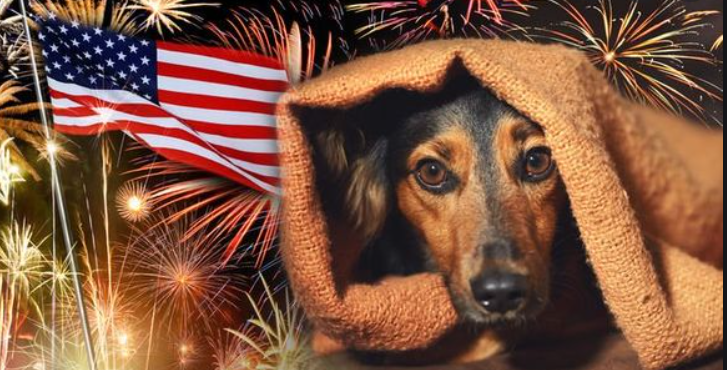 4th of July Safety Tips 2023
Top 4th of July Safety Tips
1.When barbequing make sure your guests are not feeding your dog table scraps. Multiple guests feeding your pleading pooch fatty foods can lead to pancreatitis. Supervise your pets so they do not jump on the grill to snag some food and burn themselves.  
2.Alcoholic drinks can cause dizziness, depression and in some cases, a dog can end up in a coma. Keep alcoholic drinks out of paw's reach.
3.Keep pets away from Fireworks which contain poisonous potassium nitrate and arsenic. Lit fireworks
can result in dangerous burns to the mouth, eyes, and paws.
4.If the weather is cool in the morning, exercise your dog so they feel more relaxed during the evening festivities.
5.Create an escape-proof safe room at home that guests have no access to. Provide crates and blankets and water and cover the windows. The basement or laundry room are a good spot if the door can be closed. The best room is the most soundproof and make sure windows are blacked out. 
6.For fireworks noise reduction/distraction you can play music with drum beats, turn on a fan and try a white noise device to help drown out fireworks. You can subscribe to "DogTV" which is a behavior modification tool created and recommended by behaviorists to help dogs deal with anxiety and, it can keep them entertained.
7.Try and avoid walking dogs when its dark or leaving cats outdoors at night on July 4th as they can have a Flight Response and get lost or injured or worse. Walk pets early. 
8.Make sure dogs are microchipped and consider GPS collars if you have an escape artist. If you keep a collar on your dog at home, make sure it is a Break-Away style collar to prevent a choking hazard.
Did you Know? 

  

July 5th

 

is the busiest day of the year for U.S. Animal Shelters
9.If you have a food-motivated dog then consider giving them Bully Sticks (must be supervised) or treat-filled toys to keep them occupied.
10.For panicky pooch's with severe thunderstorm or fireworks anxiety natural solutions include CBD, Herbal Calming Remedies, and wrapping your dog. Products like the Anxiety Wrap apply pressure to comfort dogs in distress similar to coddling a baby.
11.Veterinarians can prescribe meds or suggest OTC treatments for dogs with Fireworks anxiety. Benadryl, Sileo, Clomicalm, Acepromazine and believe it or not Prozac, Xanax or Valium can be prescribed.
If your dogs have had severe reactions to Fireworks ask your Veterinarian about SILEO. It is the first FDA-approved treatment for dogs that suffer from a serious condition called "Noise Aversion." It is prescribed by Veterinarians to help keep dogs calm when they hear scary noises. 
 ___________________________________________________________
Important Hot Weather Safety Tips
1.With our current summer heatwave leaving pets unattended or for prolonged periods outdoors can result in dehydration, overheating or worse. Do not leave dogs outside for extended periods and provide them with fresh water, a kiddy pool, and access to air conditioning to cool them down.
2.Whether it's the 4th of July or any other Hot weather occasion NEVER leave a pet in a car unattended with the summer heat. Even with windows slightly open, a pet can die of heat exhaustion. We have all planned to step into a store for a few minutes but gotten distracted and a couple of minutes have turned into sixty. 80 degrees in a parked car can heat up to 120 degrees in an hour and a painful death. For those that have Tesla's and are leaving dogs in cars with the air conditioning on that's better but with dog thefts on the rise it is equally dangerous.
3.Make sure your dog has access to plenty of water. Typically dogs drink 1oz per 1lb of body weight but if they are on meds like Prednisone, they are more active, it's hot out (like the current heatwave) or they mainly eat dry kibble they can require more. What I recommend is carrying a travel bowl with water when walking, a bowl in the backyard with some ice and several size appropriate bowls throughout the house. If your dogs not a big drinker and your concerned about keeping them hydrated, add a bit of Bone broth or plain Chicken broth to their water. Check the water bowls throughout the day and always offer fresh filtered water. 
 Signs of an Overheated Dog